Why Get a SMRT LED Motion-Hub Lighting?
There are many beneficial safety reasons to install smart LED lights with motion sensors in your home. You may not think about it often but any lighting system is basically just a safety feature, specially when it still operates during a power outage.
Without lights it would be extremely dangerous to walk around your home at night. There are a lot of people out there (especially the elderly) who have sustained serious injury just getting up at night when it's dark to walk over to the switch and turn the lights on. Thats why having a long range motion activated LED system installed in your home is a really smart idea. There are endless places to put these lights but some of the best ones are going down your stairs, in the kitchen under the counters or even in your room near your bed, essentially the rechargeable battery operated LED is your secondary lighting system during rolling blackouts consuming only 5v.
Indeed, our platform does more than the common building automation tasks, it helps to protect building occupants against germs with germicidal optical disinfection hit the news. Similar to many of Great Home Tek proprietary IoT devices, motion sensors are builtin so no additional motion hubs are needed as we pass the savings to our end-users.

GR8 TEK provides an affordable smart automation platform that anyone can easily install under a minute as a DIY.  It manufactures battery operated low voltage award wining all American smart IoT devices for everyones safety, comfort and peace of mind.  Our low-voltage SMART LED system automatically switches between visible light and UV optical disinfection light based on motion.
Harnessing the power of the sun indoors while maximizing your yield and harvest. GR8 TEK provides a smart lighting platform, smart IoT devices to increase health and growth of plants with our SMRT LED.  Our smart low-voltage LED system automatically switches between visible light and UV grow LED lights and even provides optical disinfection and saves you thousands of dollars.
With the current global pandemic, everyone's highest priority is to have a reliable way to ensure a clean and viable living condition. Great Home Tek rose to the occasion of the current and future pandemic challenge by offering UV Optical disinfection SMRT LED system not only to industrial and professional medical customers, but the majority of consumers an effective, safe and non-chemical approach to the problem of battling harmful microscopic pathogens.
In order to address the fears and hygiene need of the vast majority of the approximately 140 million households in the US, Canada and Mexico.   We intend to focus on the residential customer or small offices who are also doing work from home and appreciate our portable UV Modules that can sanitize their laptop, cell phones, keys and personal items in order to provide a germ free living spaces, work spaces, with and economical, effective and easy to install germicidal solution.
SMRT LED+ germicidal uv a big hit in the Las Vegas Conference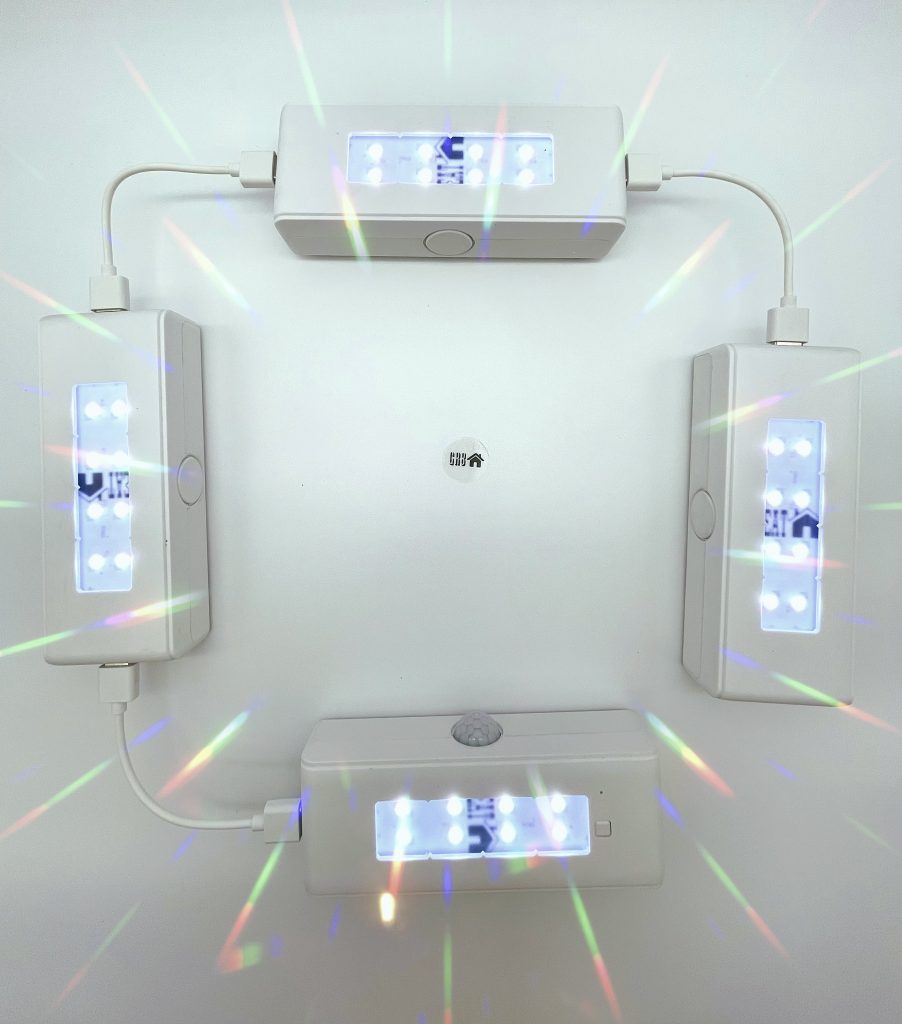 Our smart LED system has some really amazing features.  One of the coolest things about it is the fact that it has a 360 degree motion sensor, so no matter what direction you are coming from they will turn on for you. Obviously the regular light is the most practical of the settings but it is really cool to be able to change to a bunch of different colors. All the colors are really nice when you are entertaining. The best part about this product is the fact that you can extend your lights as long as you want.  When it comes to making 90 degree turns, our flexible magnetic connectors are awesome, so easy to install as they snap into SMRT LED module. All you have to do is install the tracks where ever you want to save power by switching to our 5v battery operated motion detect light and you can extent it as long as you want as it snaps together and grows.
There are so many places you can put these lights but personally one of my favorite places is underneath the cabinets in your kitchen. It gives you the perfect light you need to get the cooking done, and you won't be wasting your power and money because when you are not using them they will turn off all by themselves. Another really good spot is going down your stairs. It is really dangerous to walk down the stairs in the dark so having some motion sense LED lights for that is pretty nice.
When it comes to designing a new remodel or doing a major renovation to improve your home, lighting is always one of the most essential aspects of the design.   The form factor of the lights and the location of the lights determine what you can really accomplish to enhance the living space.  The GR8-LED motion sensors are ideal for places where normal light bulbs, cans or fixtures wont fit, rather utilizing GR8-LED can save the day and completely transform a space to an exotic gorgeous  living space where you can switch lighting colors or brightness.
SMRTled multi-color along with the snapping technology both to the metal rails as well as to each LED extender unit gives the home owner the ultimate flexibility.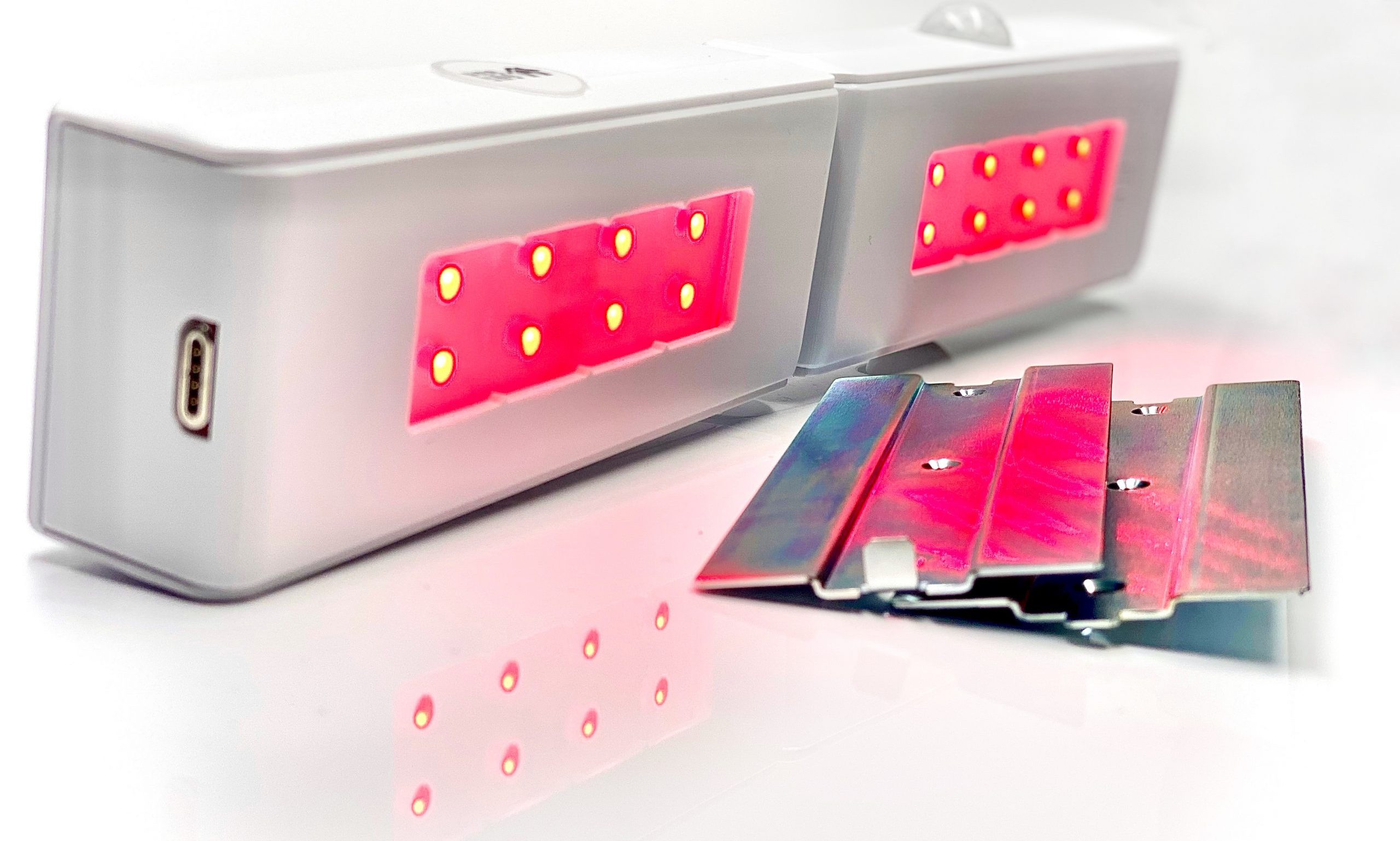 Our dual forward facing long range motion detect lights have decoupled the switch from the light, as you approach the light it turns on.   Once their turned on, they will remain on until there is no further motion detected and they automatically turn off.  Rather than having motion detectors positioned within the same plane as the LEDs, which may lead to difficulty in detecting motion from any meaningful distance and one would have to literally swing their arms under the light before it detects motion, our motion sensors are forward facing toward the user.  Our motion detectors are more effective as they're positioned perpendicularly to the LEDs, as most lights are facing either downwards or upwards depending on the users' use case which can not detect users approaching, our dual forward facing motion sensors are facing toward an approaching user and can detect motion from 15′ to 20′ away from any direction as we have a 360 degree field of view.
Our varying color LED strip, Starter packs, can easily change colors to emit RED or BLUE  thereby providing a lighting environment most conducive to a particular preferences of the user based on their mood.  Change the color of your LEDs anytime and anywhere, skylights or for bar shelves.
Most of you are probably thinking that there are tons of similar products on the market already.   Why should we use Geat Home Tek? We have many features that set us apart from the rest but the biggest is the fact hat our lighting system is expandable to as long as you want. Most companies have a limit to how far you can expand before having to buy an entirely new main unit. With us, you can extend as long as you want saving you tons of money.
All you need is the eXtender pack, for variable lengths 6″ at a time and you can grow your LED strip lighting as your needs change, they can also be easily relocated as they just snap off the metal rail and can snap onto another metal surface, so they can be moved or relocated to where you need lighting.  Most lighting systems are turned on by a switch.  As a result occupants are often left wondering about their home, in the dark, looking for the switch to turn on the lighting system and the elderly must face potential safety hazards until they find the switch.
For certain individuals, such as the elderly or assisted living may be dealing with arthritis or difficulty with motor functions that render walking to a light switch and flipping it quite difficult, we have solved that problem.
Our color varying LED eXtender packs, can easily change colors to emit Magenta or Pink  thereby providing a lighting environment most conducive to a particular preferences of the user based on their mood.  Change the color of your LEDs anytime and anywhere, skylights or for bar shelves.